Bus Timetables
Our Bus Services
New College offers 12 private bus routes operated by Poppleton's Coaches, serving many surrounding areas of the region.
The cost of a New College Pontefract bus pass for the 2023/24 academic year will be £325.
Year 12 students – Payment can be made when you visit college at Induction, 6/7 July or over Enrolment, 24/25 August.
Year 13 students – Payment can be made during progression day.
An initial instalment of £160 can be made over the phone if preferred. Students can call college on 01977 702139, option 4 at the menu to pay by debit/credit card. Lines are open from Mon-Fri 9am to 3pm. Please leave a message with your name, student ID and phone number if the line is busy and we will get back to you.
All bus passes must be paid in full by 15th September 2023.
The demand for bus passes is very high and we recommend that students wishing to travel by New College buses pay as early as possible.
If for any reason a bus pass is no longer required the following refunding structure will apply:
Before 7th October 2022 100% refund
Before 31st October 2022 50% refund
After 1st November 2022 No refund.
Please remember that bursary support is available to all students who meet the family household income criteria. Please see our website for further details and advice on how to apply for the bursary: www.ncpontefract.ac.uk/supporting-you-financially
For more information on the College Bus Pass, please see Student Services or email: studentservices@nclt.ac.uk.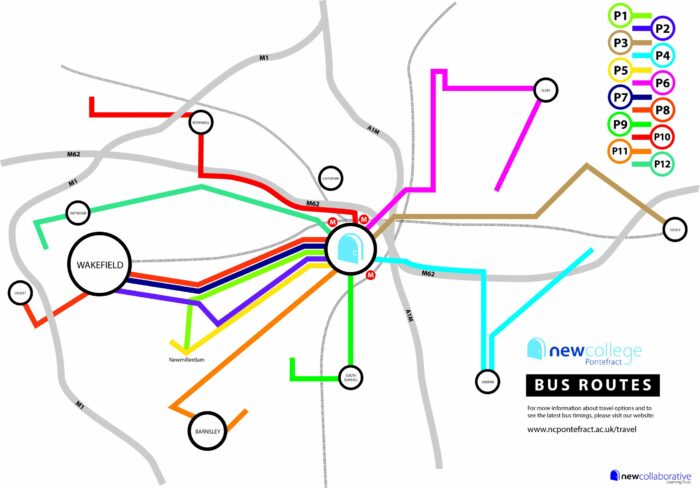 West Yorkshire 16-18 Photocard (Not for use on college buses)
A 16-18 PhotoCard is for West Yorkshire residents age 16 to 18. It gives you half-fare travel anywhere in West Yorkshire at any time of day, including evenings and weekends (except late night services and special event services).
PLEASE NOTE: This pass is for use on public services and cannot be used to travel on the New College Poppleton's services.
To find out about purchasing the West Yorkshire 16-18 Photocard see online at: https://ticketsandpasses.wymetro.com/tickets-and-passes/under-26-and-students/16-18-photocard. Application Forms are available at Student Services.
Please be aware that the bus services will follow the same route in reverse for the return journey
Train Travel
The Trainline offer a 16-25 Railcard (also known as the Student Railcard or Young Persons Railcard) to help your students travel around UK and save money on train tickets.
To find out more visit https://www.thetrainline.com/trains/great-britain/railcards/16-25-railcard